Star Prichard
Comic Artist + Illustrator
Commission Info
(For professional/corporate freelance inquiries, please contact me directly)
All prices listed are for personal artwork. For professional or corporate works, or if you have any questions, please contact me.

Headshot (Head and shoulders)
Sketch: $20
Ink: $30
Flat Color: $35
Full Shading: $40

Half Body
Sketch: $30
Ink: $45
Flat Color: $50
Full Shading: $70

Full Body / Chibi
Sketch: $35
Ink: $60
Flat Color: $70
Full Shading: $120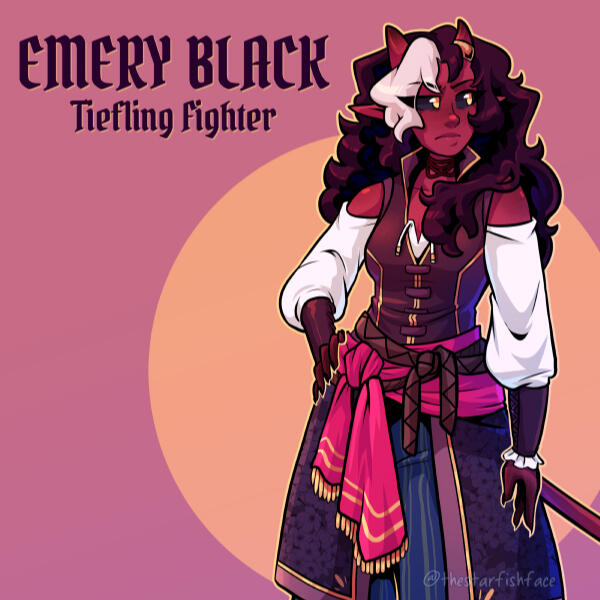 TERMS AND CONDITIONS
Payment:
Payment will be made through Square. I will send you a Square invoice to request payment once your request has been submitted. For commissions less than $50, the full amount must be paid up front. Higher amounts can be paid in 2 parts- half up front and half once the sketch is finalized. You will receive the finished piece upon its completion. Once work has begun, refunds cannot be given unless the artist is unable to finish the piece.

Discounts:
A 10% discount will be applied for Patreon supporters.

Revisions:
During the art process, I will send WIPs so you can check the progress and request revisions. 2 rounds of revisions are free. Extra revisions, depending on difficulty and time required, may include an extra fee. (Example: Slightly changing a character's hair color will not cost anything. Completely changing their hairstyle will.) All the more reason to be specific when describing your commission!

Time:
Please allow up to one month after initial payment for me to complete your commission. Pieces with multiple characters or more details may need more time to complete. If an emergency or personal issue arises, there may be a delay depending on the severity of the situation. For a more accurate time estimate, please ask me directly! If you need your art sooner, please ask about rush fees.

Final Product:
Once you have paid the full invoice and I have finished your art, I will send you the finished, high resolution art files via e-mail. There will be no physical product delivered in the commission process! You are paying for digital files.

Rights and Legal Information:
In general, once you've received your commission from me, you are free to do whatever you want with it! However, there are a few limitations based on the rights I retain as the artist. You are not allowed to:
•Sell it, or sell anything with the design included on it.
•Modify or alter it
•Claim credit for its creation, or give anyone besides the original artist (me) credit for creation.

Also, if you use the art as an icon, profile picture, banner, etc. you must link back to me with proper credit. (Either by name or with my social media handle @thestarfishface)

As stated earlier, the prices listed here are for personal-use, non-commercial art pieces. Commercial pieces will have extra fees for licensing, as well as a contract agreement, depending on how the art is to be used. Please contact me for a detailed quote.
About
Star Prichard is an artist from Austin, TX. She graduated from Savannah College of Art and Design in 2014, with a Bachelor of Fine Arts degree in animation and storyboarding. Currently, she works as a freelance comic artist and illustrator. Past clients include First Second Books, Austin Film Festival, PolarCap Studios, and more.

Her webcomic, Castoff, is a fantasy-adventure series about a group of magical misfits on the run from the law. In 2017 Castoff won StArt Faire's Excellence in Webcomics People's Choice Award, along with an honorable mention for Best in Fantasy. The comic updates biweekly on Mondays and Fridays.

When she isn't working on comics, she enjoys thinking about comics, playing video games, and cosplay.
---
PRESS
Interviews
TrunkSpace - Star Prichard

Podcasts:
The CXC Podcast Episode #38: Why Webcomics Matter with Star Prichard (Guest)

Spiderforest Podcast Episode 8: The Medium is the Message (Cohost)
Spiderforest Podcast Episode 11: Proud to be a Working Artist (Cohost)
Spiderforest Podcast Episode 17: A Stranger Rides Into Town (Cohost)

Awards
StArt Faire's Excellence in Webcomics 2017 – People's Choice Award
StArt Faire's Excellence in Webcomics 2017 – Honorable Mention
Conventions
This page serves as a portfolio of my merchandise and photos from past events and conventions.
---
MERCHANDISE
Current merchandise: Plushies, stickers, acrylic keychains, buttons, prints
Full collection of merchandise on my online store
---
EVENT PHOTOS
---
UPCOMING EVENTS
Miniminicon
May 2 | San Antonio, TX
(Artist Alley)

Anime Frontier
May 8-10 | Fort Worth, TX
(Artist Alley)

Momocon
May 21-24 | Atlanta, GA
(Artist Alley)

Delta H Con
July 17-19 | Houston, TX
(Artist Alley)
---
PAST EVENTS
Pflugerville Library Comic Con 2019 (Artist + Guest)

Anime on Ice 2019 (Artist)

Anime Weekend Atlanta 2019 (Artist)

CTX Kids & Teens ComicCon 2020 (Artist + Panelist)
---
PANELS
Webcomics 101: Creating Your Story
Everything you need to know to make your own webcomic!
Presented at: San Japan 2019, Ikkicon 2018 / 2016, Anime Austin 2017 / 2016, Anime Overload 2016

Webcomics 102: Self-Promoting to Self-Publishing
An in-depth look into the back end of webcomic creation!
Presented at: San Japan 2019, Ikkicon 2018

Mastering Social Media (For Artists, Cosplayers, and Internet Creators)
Tips and tricks to help you master social media and grow your online audience.
---
BOOKING
I love conventions! If you are interested in having me as a guest for your show, please contact me.